Upcoming Tres Dias Weekends

Men's #49 • October 10-13, 2013 • Steve Simmons, Rector
Women's #49 • October 24-27, 2013 • Cathy Chastain, Rector

Men's #50 • April 2014 • TBA, Rector
Women's #50 • April 2014 • TBA, Rector

---
---
Celebrate God's Faithfulness...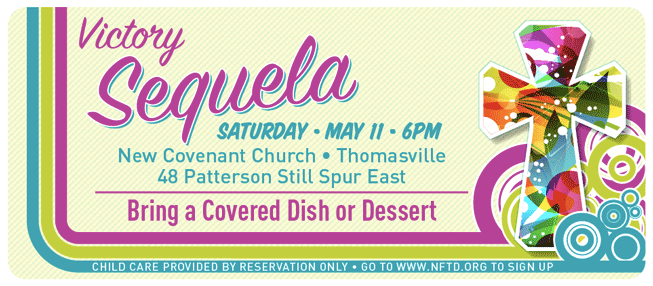 Child Care Reservations at the Sequelas
Child care will be provided at the sequela by reservation only. If you would like to take advantage of this service, please click here to fill out the reservation form. A different reservation form will need to be submitted for each sequela that you wish to have your child participate in.
Are you looking for another way to serve?
Would you like to bless others and have a great time too?
If you answered yes to either of these questions, we have an awesome opportunity for you!!
We are in need of people who would like to serve the community by offering to participate in providing child care services at one of the sequelas. If you are interested, or would like more information, please contact Bob Alvis at balvis9@hotmail.com
---
Announcements & Reminders

NFTD SECRETARIAT typically meets the fourth Monday evening of the month. The next meeting is scheduled for Monday • May 27, 2013 at 7 p.m. at Freedom Church in Tallahassee.
---